Homley Industries
Company Name

Homley Industries

Member Name

Winnie Kwong

Country

Hong Kong (China)

Industries

Parts For Other Industries

Product Supplied

Aluminium Buckle , Aluminium Watch Buckle, Brass Buckle , Brass Watch Buckle, Butterfly Stainless Steel, Butterfly Stainless Steel Watch Buckle, General Metal Parts, Parts For Clock & Watch, Stainless Steel Buckle, Stainless Steel Watch Buckle,Parts For Other Industries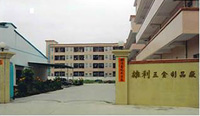 In order to maintain competitiveness, it is important to learn from the successful experience of competitors.

Being a manufacturer and exporter of watch buckles, belt buckles and buckles accessories established for nearly 12 years, Homley Industries had joined various industrial conferences and exhibitions yet found that the participants were always the same group of people. They realized that if they want to expand the business network, a new channel was needed. "We asked for recommendation from other players in the industries and they all recommended Tradeeasy. After joining it for half year, we can see why it is so popular," said Winnie Kwok, representative of Homley.

The extensive database of Tradeeasy provides the edges that Homley needs for business development. Acting as a middle man, Tradeeasy, based on the specific requirements of Homley, shortlists the potential buyers beforehand and arranges procurement meetings for Homley. Such tailor-made service enables the company to identify the right partners more easily. Instead of spending time on joining expo or conference, Homley now improves the efficiency by meeting the potential buyers directly and shipping the sample or paying site visit, which in turn increase the probability of closing a deal.

Homley is glad that it has adopted the new "best practice" of the industry as the company received 20% more enquiries in the past six months, many of them from prospective buyers from all over the world. It is expected that both the number of enquiry and sales performance will keep going up and they will also continue to employ the service of Tradeeasy so as to fully explore the opportunities it offers.