PURE LONDON 2018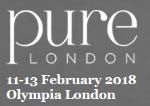 Country

United Kingdom

Venue

Olympia Exhibition Centre ,Hammersmith Road,Kensington, London W14 8UX,UK - United Kingdom

Date

11-13 February, 2018

Business Hours

11-12 Feb,9:30am-6pm,13 Feb,9:30am-4pm

Industries

Bags, Apparel, Fashion Accessories, Footwear

Organizer

i2i Events Group

Website

Nature

Womenswear,Menswear,Fashion accessories

Scope

With over 10,000 high-calibre visitors attending each season to source from over 800 brands, our exhibitors are in a prime position to sell to and forge relationships with independent boutiques, multiples, department stores and online stores. Key retailers include: Fenwick, Harrods, Liberty, Asos, Cocosa, Bottega, The Dressing Room and John Lewis. Pure London is an order writing tradeshow with over 82% of our visitors either directly responsible or influential in purchasing decisions. 52% of visitors intend to spend more than a quarter of their annual budget with brands they meet at Pure London.
Trade Show Calendar
Trade Shows by Industry