Garment Matching Conference in June 13 - 14, 2007 Facilitated Ideal Buyer-supplier Match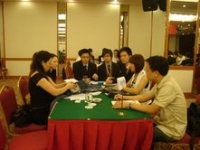 Tradeeasy's Garment and Accessory Matching Conference at Holiday Inn City Centre Guangzhou in June is a great success which attracted buyers from Europe, America and the Asia Pacific region, including Coles Group, the largest supermarket store in Macau and New Zealand. Both buyers and suppliers were able to know about each other through interviews and detailed presentations.

Every year, Tradeeasy gathers a lot of aggressive suppliers and coordinates matching interviews with buyers for them. The buyers are usually desperate for high quality products in reasonable price and committed suppliers who do their best to satisfy buyers' needs. And Tradeeasy has always been the one they approach, for its sophisticated supplier base in Asia and well-coordinated services. Tradeeasy understands buyers' needs so well that the buyers could always meet manufacturers they require. On the other hand, suppliers are very satisfied as the detail-oriented Tradeeasy identifies their advantages in matching international buyers so that their strength can be bought into full play, besides gaining a wider client base.

The matching conference provided a perfect opportunity for buyers to source new manufacturers. Many of them identified potential suppliers in the event followed by factory visits the next day. Some of the buyers were so impressed that they claimed that deals could be made once the quotations were confirmed. They are so amazed by the flexibility Tradeeasy had on shortening the normal procedure to speed up relationship building and definitely recommend Tradeeasy for buyers worldwide.