Link to Us
Link exchange program is a cost saving and efficient service to promote each other's web site. You are most welcomed to add our information in terms of "Text Link" and/or "Banner Link" to your web site. Information as follows:
Website Title:
Tradeeasy.com - an international trade enabler catering to the needs of global buyers, HK & China suppliers.
Description:
Tradeeasy is an international trade enabler based in Hong Kong and China, providing free on-line and off-line sourcing services to a world-wide community of over 350,000 buyers. With over 200 customer service representative visiting and pre-qualifying over 15,000 suppliers in China every month, we are able to supply comprehensive company information and over 350,000 product photos. You are welcome to join and be part of us!
Country:
Hong Kong
Email address:
---
Text Link
Please add (copy & paste) the line below into your html page:
<

a

 

href=

"http://www.tradeeasy.com"

>

Tradeeasy.com

<

/a

>
---
Banner Link
Horizontal Banner: (750 x 100 pixels)
<

a

 

href=

"http://www.tradeeasy.com"

>


  

<

img

 

src=

"https://www.tradeeasy.com/te/info/link-us/images/tebanner-750x100.jpg"

>




<

/a

>
Vertical Banner: (200 x 150 pixels)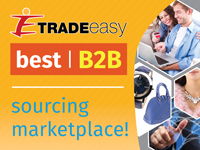 <

a

 

href=

"http://www.tradeeasy.com"

>


  

<

img

 

src=

"https://www.tradeeasy.com/te/info/link-us/images/tebanner-200x150.jpg"

>




<

/a

>