Introduction of Procurement Meeting
Procurement Meeting is an off-line sourcing service which Tradeeasy provides FREE to our Buyer Members. We make life easier for our Buyer Members by arranging for them to meet with pre-qualified sellers face to face.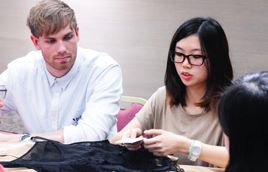 Five simple steps:
01

First Step

While you plan your trip to Hong Kong and China, send us your sourcing needs.

02

Second Step

We will pre-qualify appropriate sellers.

03

Third Step

You decide on who to meet, and where to meet them.

04

Fourth Step

Sellers bring in their samples to meet with you in our office or at your convenience.

05

Fifth Step

We can also organize factory visits and conduct any follow-up work as required.
We believe we can significantly complement your existing sourcing channels. Our 200 customer services team members visit more than 15,000 sellers every month, and we showcase over 350,000 products on tradeeasy.com. Accordingly, we are confident of being able to find quality sellers to fit your sourcing needs.
In 2015, with our assistance, more than 500 buyers from around the world participated in our Procurement Meetings, with most of them finding sellers with better prices. Here are some highlights.
If you are a Tradeeasy Buyer Member, simply Apply Here. If not, please Join Now!.
Please note:
You have to be physically in Hong Kong or China for the time of the meeting
You have to spend at least half a day for the meeting
A full, completed application must be submitted at least two (2) weeks prior to your arrival in HK / China