PURE LONDON 2022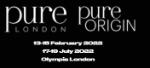 Country

United Kingdom

Venue

Olympia Exhibition Centre, Hammersmith Road, Kensington, London W14 8UX, UK - United Kingdom

Date

13-15 February, 2022

Industries

Apparel, Fashion Accessories, Bags, Footwear

Organizer

Ascential plc

Website

Nature

Womenswear,Menswer,Kidswear,Bag,Shoes,etc.

Scope

Pure London is so much more than a fashion trade show. We bring together some of the brightest minds in the industry twice a year to showcase the best of the season's collections, discover the latest trends, get exclusive business insight and make all-important international connections. Pure London provides a global platform for womenswear, menswear and kidswear brands and designers to meet the buyers that matter the most to their businesses.
Trade Show Calendar
Trade Shows by Industry